Biography:
Yoel Sharon was born in October 1949 in Vienna, Austria. In 1950 his family moved to Israel, living first in an immigrant camp in the north and finally in Beer-Sheba, where Yoel went to school, was a member of the Scouts movement and graduated high school before entering the Israel Defense Forces for his national service in 1967.
On completion of his army service, Yoel worked in various security-related fields before beginning Film & Cinematography studies in London, England in the summer of 1973.
With the outbreak of the Yom Kippur War in October 1973, Yoel returned to Israel and joined his unit. On the last day of the war, he was severely injured at the entrance to the city of Suez. Most of the soldiers in his company died in this incident and Yoel was left paralyzed from the waist down.
On release from hospital, he continued his Film studies at Tel Aviv University graduating in 1978. During and following this time, he wrote, directed and produced many documentary and feature films.
In January 1995, Yoel founded and became Chief Executive of Etgarim (Challenges), a non-profit organization aimed at the physical, emotional and social rehabilitation of children and adults with disabilities of any kind, through extreme outdoor sports. Etgarim made a significant contribution to the integration of those with disabilities into Israeli society. In 2003, Yoel received The Yigal Alon Award, for outstanding pioneer work within Israeli society and in 2006, he was honored as a World Leader of Social Change by the World Economic Forum, Davos, Switzerland.
In 2008 Yoel returned to filmmaking and started Sharon Films, his own production company.
Yoel Sharon has been chosen by The Minister of Sport and The Israeli Olympic committee as "The exemplary person in Israeli Sport 2014", for his work in developing the field of extreme sports for people with wide ranging disabilities and their inclusion in international competitive sports.
Yoel lives in Tel-Aviv, Israel, is married to Dina and has 3 children and 3 grandchildren.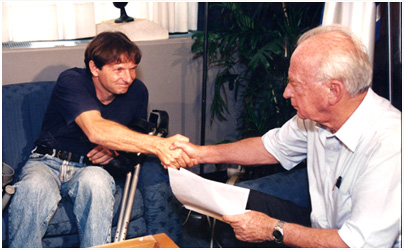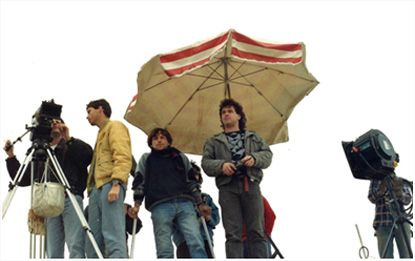 Filmography (partial):
2013 One Battle Too Many –
screenplay, direction and production. Feature documentary with animation, 85 mins. Shown on Israeli TV, Channel 10, September 2013
2010 "Country on the Road" –
direction and production. 5 part documentary series (50 mins each) for Israel TV, Channel 1. For this series, Yoel travelled the length & breadth of Israel in his hand-cycle, talking to lots of different people about their past dreams and the present reality
1993 "Fellow Traveler" –
screenplay for full-length feature film. A voyage of education and coming of age; a Jewish youth and an elderly Bedouin travel across the Land of Israel of the 1930s. A story of unrequited love; a journey of revenge and forgiveness.
1990 "Hatikva" –
screenplay for a full-length feature film. The birth of the national anthem, set against the background of a romantic triangle in the days of the first Aliya. The story of Naftali Imber, Lord Oliphant, and his wife Alice. Awarded First prize in Warner Foundation 40th Anniversary competition.
1988 "Shell-Shock" –
screenplay, direction and production. Feature length film. The film was distributed in 40 countries world-wide, by Angelica Films. Premièred in New York, USA, Sep 1988.
1985 "A Story of a Friendship" –
direction and production. A 30-minute documentary for a French company.
1983 "To Be An Actor" –
screenplay and direction. A 40-minute docudrama. Produced and broadcast by Israel TV, Channel 1. Chosen as the best documentary of the year – in a poll of television writers in "Lahiton".
1980 "On The Tracks of Mt Sinai" –
screenplay, direction and production. A 50-minute feature film broadcast on Israel TV, Channel 1.
1979 "The Hiding Place of the Sunken Ship" –
producer, international documentary. Co-production - Israel TV, Channel 1; the BBC and Kastel Films. Director: Eli Cohen.
1978 - "Journey" –
screenplay, direction and production. A 40-minute documentary produced at Tel Aviv University, broadcast on Israel TV, Channel 1. Best movie award, the Israel Short Film Competition.